NAVIGATION
CONTACT US
Add: info@gloveboxes.co.in
Tel: +86 010 94998901
Fax: +86 010 94998901
Email: han@yeadagroup.com
Your position: Home > Solvent purification system
SPS-5/800 Solvent purification system
Product description: SPS-5/800 Solvent purification system
Product introduction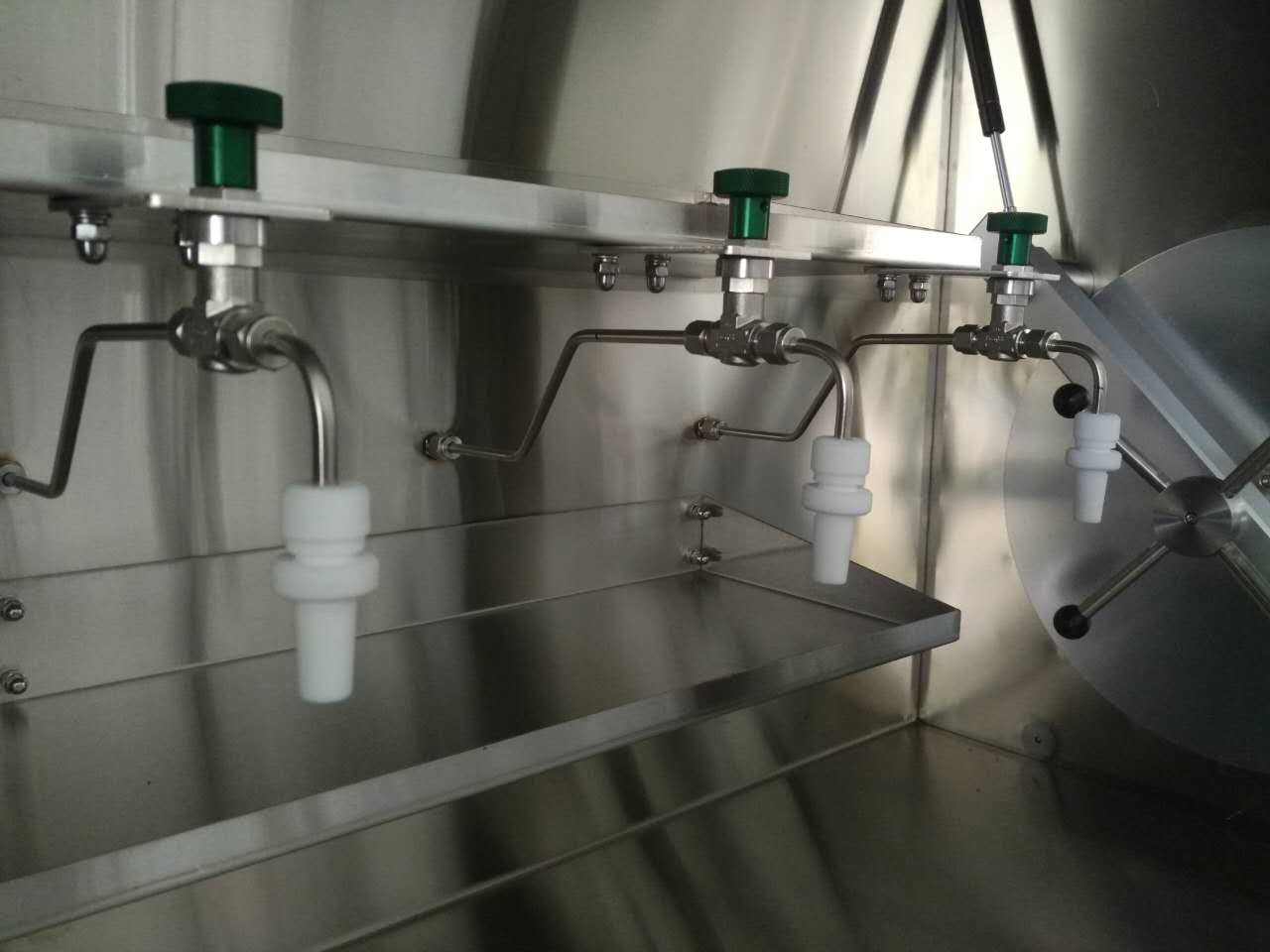 1. SPS-5/800 Main Function
SPS-5/800 solvent purification system is a simple, safe and reliable laboratory equipment. Compared with moisture removing way of heating and distillation sodium to remove moisture, the solvent purification system can supply high quality anhydrous organic solvent in real time in the case of safe and easy.
And SPS-5/800 is a completely closed system, which can handle 5 different solvents simultaneously. And also it can handle one solvent as an independent unit. SPS-5/800 can quickly and safely remove the water and oxygen in the solvents, And the solvent directly into the reservoir through the Swagelok fittings in front of the panel. Also the solvent can into the glove box, which is inert-gas protection environment.
2、Main features:
The compact design, greatly saves the space
Except methanol, almost all the water in the solvent can be reduced to a single digit PPM level
To replace the distillation
The purification column warranty period up to 24 months or 800L
Each solvent is operated independently to avoid cross contamination.
All of the solvents can be handled simultaneously.
3、Specifications for SPS-5Solvent Purification System
Dimension: 1200 ˟ 950 ˟ 1900mm(L*W*H)
Net Weight:200kg;
Installation requirements:
(1)220V power supply, 10A, 50HZ, 3-way;
(2)working gas:99.999%N2/Ar, pressure 0.3-0.5ATM
4、Specification
4.1、Pure Column: 5 dual pure column Design, Stainless steel system. Each reservoir volume not less than 4L, equipped with filter With a treatment filter, 5 kinds of solvents can be purified simultaneously.
4.2、Equipped with supporting feet or casters at the bottom of the whole system for fixed or mobile the system.
4.3、The operating table: The stainless steel pipe, each solvent can be obviously distinguished via the Swagelok valve to control the solvent, gas, vacuum valve.
4.4、Handle volume: The effective treatment of each solvent is more than 800L
4.5、1000ml/min;The purified solvent flow rate can reach 1000ml/min
4.6、Gas exhaust system: this system is closed loop with a specially designed exhaust interface
4.7、For each solvent has a backup connection port, which can access solvent to the glove box or container.
4.8、To be equipped with air blow sweep pipe and the liquid storage tank
4.9、Each Solvent Rack Includes
4.9.1 Choices among bench top or free standing.
4.9.2 Dual column Design:Each column is stainless steel and via pressure tested 400Liter Capacity, Volume of 283 Cubic Inches. All Columns are fully conditioned.
4.9.3 Exhaust valves: Three way valves on top of each column
4.9.4 Stainless Steel Tubing: All tubing responsible for carrying solvents is 1/4 inch stainless steel.
4.9.5 Regulators: Each solvent has its own dedicated regulator to control pressure and flow
4.9.6 Check Valves: each solvents has it's own check valve in line to prevent back flow, thus eliminating cross contamination of solvents.
4.9.7 Directional Valves:Each solvent includes both 2-way and 3-way Swagelok directional valves to control flow of solvents and inert gas.
4.9.8 Gas connection: Only one main inert gas supply required. There is no need to
4.9.9 Vacuum Manifold:Internal Vacuum manifold built into frame of system. Allows for evacuation of glassware. Includes vacuum indicator
4.9.10 Gas /(Nitrogen) Manifold: Internal Gas Manifold built into frame, includes regulators, and pressure relief valves dedicated to each air free solvent flask, this prevents from over pressurization of glassware.
4.9.11 Solvent Dispensing: to control the output flow by Swagelok metering valve. Stainless steel hose can be bent, with a solvent outlet, convenient connection glassware. And equipped two interfaces, one for needle connector, can be replaced by user themselves.
4.9.12 Emergency Shut Off Valve: red sign Swagelok, two-way valve in the gas supply line, for cutting off all pressure to system when needed
4.9.13 In grounding and anti-static, purification system is equipped with a 5 meter anti-static clamps, grounding to avoid electrostatic, an operator can the system interface connected to a water pipe or a wire. When the storage device is injected into the solvent, the system is also connected with the grounding wire to ensure safety.
4.9.14 Activation: the operator can use immediately, as all purification system has been activated in factory.
4.9.15 The purpose of the clamp bracket: stainless steel frame with vertical bracket can clamp glass for operator.
4.10、The flammable storage cabinets: 3 class fire, used to store the solvent storage, including welding interface purification system
4.11、The solvent storage capacity: 20 liters, stainless steel, pass pressure test. Different solvents can be arranged in different colors, and can be quickly cut off the interface, the gas supply pipe, and the stainless steel pipe can be used for conveying the solvent to clean the pipe. Connect regulator, check valve, discharge bubble function.
4.12、Vacuum pump: German KNF vacuum pump, for glassware pumping
4.13、Can integrated with glove box